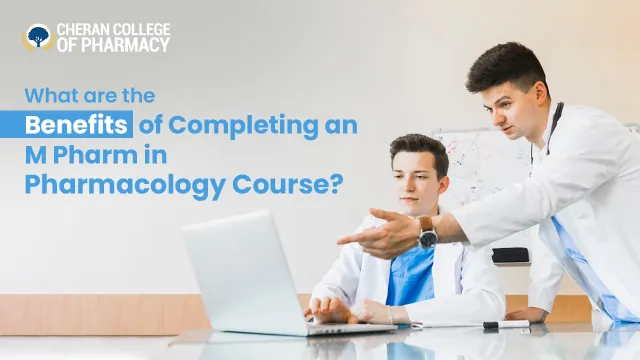 The pharmaceutical industry is one of the leading industries that offers major support to the healthcare industry. The growing value of the pharmaceutical industry is very significant and the current value is USD 486.72 billion in 2021. This tremendous growth in the pharmaceutical industry has resulted in remarkable demand for skilled pharma professionals. Professionals with master's degrees are a valuable possession for the pharmaceutical industry.
M Pharm in Pharmacology is one of the best master's degrees in pharma education. Let us see more about this course in this article.
M Pharm in Pharmacology at Cheran College of Pharmacy:
M Pharmacy Pharmacology is one of the best postgraduate pharmaceutical courses that concentrate on preparing the students for analyzing the uses, effects, and modes of action of drugs.
This course curriculum is designed to educate the techniques, practices, methodologies, and technologies involved in the analysis and research of drug substances.
Read more to know more about pharmacology course:
Eligibility Criteria for M Pharm in Pharmacology:
The basic eligibility criteria for M Pharm in Pharmacology at our Cheran College of Pharmacy, one of the top pharmaceutical colleges in India are as follows:
Candidates should have completed a B Pharmacy course at any recognized pharmaceutical college.
Candidates should have scored a minimum of 50% aggregate score in B Pharmacy.
Admission Procedure for M Pharm in Pharmacology:
The admission procedure for any pharmaceutical course is either merit-based or entrance exam based.
We at our college, Cheran College of Pharmacy, provide admission to any pharmaceutical courses by considering the B Pharmacy course score based on the guidelines of the Tamilnadu State Government.
Duration and course module of M Pharm in Pharmacology:
M Pharm in Pharmacology being one of the postgraduate pharmacy courses is designed for 2 years duration. This course is planned for a total of 4 semesters in a way that each year has 2 semesters.
The course module of M Pharmacy Pharmacology is designed with core subjects and interdisciplinary subjects for in-depth practical knowledge in the pharmacology field.
Take a look at the M Pharm in Pharmacology syllabus.
M Pharm Pharmacology Syllabus:
Here is the complete idea on M Pharm Pharmacology subjects:
| | |
| --- | --- |
| Semester I | Semester II |
| General Principles of Pharmacology and Pharmacokinetics | Molecular Pharmacology |
| Modern Analytical Technique | Pharmacological Screening and Bioassay |
| Research Methodology and Pharmacological Screening | Pharmacology of Autocoids Git Respiratory System and Chemotherapy |
| | |
| --- | --- |
| Semester III | Semester IV |
| Synopsis | Drug Delivery and Clinical Development of Drugs |
| Drug Regulatory Affairs Intellectual Property Rights and Bioethics | Outdoor Activity Based Courses |
| Pharmaceuticals Biostatistics and Computer Applications | Research Work |
Having got a view on Pharmacology M Pharm Syllabus, let us move onto the scope for M Pharm Pharmacology.
M Pharm in Pharmacology scope:
As already mentioned, in recent decades the pharmaceutical industry is standing tall with enormous inventions and discoveries. The empowered pharmaceutical industry has even tackled the global crisis of Covid – 19 with its speed of research and manufacturing.
All these outstanding achievements of the pharmaceutical industry are made possible by skilled pharma professionals holding master's degrees in various pharmaceutical specializations. M Pharm in Pharmacology is affirming top among the master pharmaceutical degrees.
The scope of M Pharm in Pharmacology is significantly noted in multiple fields and some of them are as follows:
Hospitals
Clinics
Educational Institutions
Private and Public Industries
Benefits of pursuing M Pharm in Pharmacology:
Pursuing M Pharm in Pharmacology has got enormous benefits which are discussed below:
Better higher education scope:
Though M Pharm in Pharmacology itself is a postgraduate course, there is a better higher education scope following it. Some of the preferred higher education courses are:
M.Phil
MBA
Ph.D. in Pharmacology
Ph.D. in Pharmacy
Enormous job opportunities:
Career after M Pharm Pharmacology is significantly found in both public and private sectors. Here is the list of jobs in the government and private sector:
| | |
| --- | --- |
| Government jobs | Private Jobs |
| Pharmacist | Clinical Research Associate |
| Clinical Analyst | Chemical / Drug Technician |
| Analytical Chemist | Research & Development Executive |
| Biomedical Scientist | Drug Therapist |
| Lecturer | Research Manager |
| | Drug and Quality Control |
| | Medical Writer |
Here is the graph of the average M Pharm in Pharmacology salary in the public and private sectors respectively: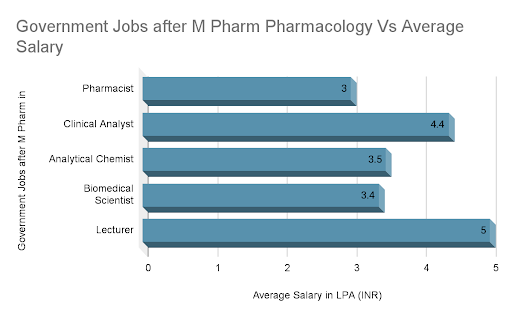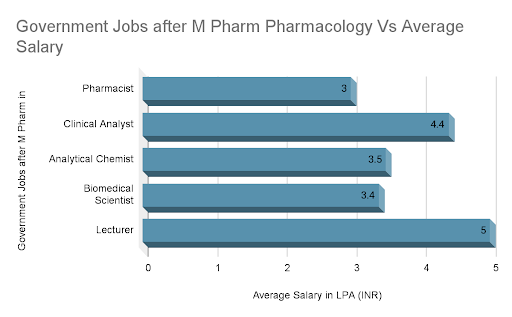 Source: Self-created
Job opportunities at top pharmaceutical companies:
Top private companies hire M Pharmacy Pharmacology graduates and some of those companies are as follows:
Ranbaxy
Cipla
Reddy's Laboratories
Zydus
Biocon
Sun Pharmaceuticals
Good job scope in foreign countries:
M Pharm in Pharmacology has got remarkable job scope in foreign countries as well. Here are the countries that provide better job scope for pharmacology:
USA
UK
Netherlands
Australia
New Zealand
Malaysia
Reasons to choose Cheran College of Pharmacy for your pharmacy courses:
As the pharmaceutical industry is gaining immense popularity, students studying different M Pharm in Pharmacology have to make sure they study at the right college.
Cheran College of Pharmacy is one of the best pharmacy colleges for the followings reasons:
Expertly qualified faculties with field experience in the pharmaceutical industry.
Top-class laboratories with advanced equipment to provide practical training.
Highly enriched library with exclusively updated study materials and research papers for students' access.
Excellent placement training and top-notch placement drives with top pharma recruiters.
Conclusion:
Pursuing a master's degree has always got value in the pharmaceutical industry as the research proceedings are never ending and it requires expert pharma professionals. M Pharm in Pharmacology offers specialized pharmaceutical knowledge in the analysis and research facet of drugs which play a major role in the development of efficient drugs. As long as the research happens in the pharma industry, there are always better career opportunities for M Pharmacy Pharmacology graduates.
FAQs:
1. What is the average salary scale for M Pharm Pharmacology freshers?
The average salary scale for M Pharm Pharmacology freshers is between INR 3 Lakhs to INR 4 Lakhs per annum. The salary scale increases with experience and reaches as high as INR 15 LPA.
2. What are the other M Pharm courses available at Cheran College of Pharmacy?
The other M Pharm courses available at Cheran College of Pharmacy are:
M Pharm Pharmaceutics
M Pharm Pharmaceutical Analysis
3. Is it tough to study M Pharm in Pharmacology?
The toughness of any course is based on the interest of the students. If the student has an interest in drug research, then M Pharm in Pharmacology will not be tougher to study.
4. Can M Pharm Pharmacology students pursue MBA?
Yes, M Pharm Pharmacology graduates can pursue MBA by appearing for some of the entrance exams like CAT, GMAT, CMAT, etc. MBA in Hospital Management will be the best choice of MBA after any pharmacy course.
5. Can MBBS graduates pursue M Pharm Pharmacology?
No, MBBS graduates cannot pursue M Pharm Pharmacology. Only B Pharm graduates can pursue any M Pharm courses.